Yatch Charter in Turkey
Gulet And Yatch Charter in Turkey
As in the world,in Turkey as well; private yacht, gulet rental has increased its population compared to previous years and has taken its place in the inner market as an alternative holiday product. Yacht rental; Gulet, Motoryacht and sailing yachts are the tree diffreent product groups are the most popular ones. Gulet is the most preferred one among these product groups without doubt. The average sizes of these gulets,which we frequently encounter on the Mediterranean, Aegean and Marmara coasts, are vary between 14 meters to 50 meters and they can accommodate from 2 up 30 peoples.
Yacht rentals are mostly preferred weekly starting and finishing on saturdays. Guests who do not have enough time can request a yacht charter on a short voyage outside of high season. As Arsis yacht rental company, we unfortunately do not accept''requesrs less than a week'' in june,july and august being high season.you can get further information from our call center offices.
The day the yacht is rented, tour starts at 15:00 and its ends at 10:00 am after breakfast on the last day. The reason for tour ending in the morning; to have enough time for the cleaning of the yacht for next guests arrival as the tour ends and the other tour starts on saturday. That 5 hours time from 10:00 to 15:00 is well enough for complete cleaning of the yacht,laundry, refuelling. The weekly rental fee includes diesel, transitlog, harbor taxes and personnel expenses in Turkish waters. Most of the yacht provides snorkels, palettes, sea toys, fishing rods, canoes free of charge
The prices of our yacht are vary depending on the comfort and equipment that yacht has. Arsis yacht charter company has offers suitable for any budget starting from 250 Euro up to 5000 Euro per day.After taking into consideration the rental conditions, the next step is to choose the most suitable yacht for yourself. Our yacht&gulets are 6 mounts from 1 may to 31st October. Yacht and gulets are all anchored in different harbors and accordingly the yacht or gulet you choose may not be at the harbor you want to start the tour so to save time; please specify the harbor you want to start the tour on the booking from.
As Arsis yacht charter company,we provide our services at Bodrum Turkey, Gocek, Fethiye Turkey, Antalya Turkey, Istanbul Turkey, Bursa Turkey and Marmaris Turkey. While choosing the yacht&gulet for your tour,you have to know the exact number of the people in your group and you have to decide the harbor you want to start the tour. Please consider the travel distance and time while choosing the harbor.You can find the distances from airports to the harbos below.
You will find the pictures of some of Arsis Yacht Chartering Company's yachts and gulets below.
Luck 1 Gocek Port
Type: Sail / Engine:760HP / Lenght:35m/ Width: 8,50 m / Capacity (People): 14 / Crew: 5
Fuel consumption: 65 lt/h / Max Speed: 14 knots /Air Condition: Ok / Cabin:7/ Fresh Water Capacity: 4000lt
Saloon: Bar, Dinner Table, Comfortable Seating Group, Modern Furniture (Full Equipment)
Kitchen: Full Equipment
Cabin/Bed/Type: 1 Master / 6 Double
Bathroom: Each cabin has it own shower room
Music System:Only at dining room
Electronic Systems: Communication Device, Depth Gauce, Radar, Gps, Compus, Satellite Communication Device
Other Equipments: İce machine, Cd player, Dvd player, Coffee Machine, Wine Cooler, Hair dry, PS3
Service Boat: Avaible
Water Sports: Water Ski, Surf, Canoe
Diving Equipments: Fishing Equipments, Sun Protector, Sun Beds, Deck Shower
Luck 2 Gocek Port
Type: Motoryacht / Engine:760HP / Lenght:17m/ Width: 4,50 m / Capacity (People): 6 / Crew: 2
Fuel consumption: 20 lt/h / Max Speed: 11 knots /Air Condition: Ok / Cabin:2/ Fresh Water Capacity: 2000lt
Saloon: Bar, Dinner Table, Comfortable Seating Group, Modern Furniture (Full Equipment)
Kitchen: Full Equipment
Cabin/Bed/Type: 1 Master / 1 Double / 2 Twin
Bathroom: Each cabin has it own shower room
Music System:Only at dining room
Electronic Systems: Communication Device, Depth Gauce, Radar, Gps, Compus, Satellite Communication Device
Other Equipments: İce machine, Cd player, Dvd player, Coffee Machine, Wine Cooler, Hair dry, PS3
Service Boat: Avaible
Water Sports: Water Ski, Surf, Canoe
Diving Equipments: Fishing Equipments, Sun Protector, Sun Beds, Deck Shower
Luck 3 Gocek Port
Type: Motoryacht / Engine:450HP / Lenght:16m/ Width: 5,20 m / Capacity (People): 4 / Crew: 2
Fuel consumption: 40 lt/h / Max Speed: 9 knots /Air Condition: Ok / Fresh Water Capacity: 1200lt
Saloon: Bar, Dinner Table, Comfortable Seating Group, Modern Furniture (Full Equipment)
Kitchen: Full Equipment
Cabin/Bed/Type: 2 Double
Bathroom: Each cabin has it own shower room
Music System:Only at dining room
Electronic Systems: Communication Device, Depth Gauce, Radar, Gps, Compus, Satellite Communication Device
Other Equipments: İce machine, Cd player, Dvd player, Coffee Machine, Wine Cooler, Hair dry, PS3
Service Boat: Avaible
Water Sports: Water Ski, Surf, Canoe
Diving Equipments: Fishing Equipments, Sun Protector, Sun Beds, Deck Shower
Luck 4 Gocek Port
Type: Motoryacht / Engine:2xMTU 1.150HP / Lenght:24m/ Width: 5,20m / Capacity (People): 8 / Crew: 3
Fuel consumption: 65lt/h / Max Speed: 22 knots /Air Condition: Ok / Fresh Water Capacity: 8000lt
Saloon: Bar, Dinner Table, Comfortable Seating Group, Modern Furniture (Full Equipment)
Kitchen: Full Equipment
Cabin/Bed/Type: 1 Master / 1 Double / 2 Twin
Bathroom: Each cabin has it own shower room
Music System:Only at dining room
Electronic Systems: Communication Device, Depth Gauce, Radar, Gps, Compus, Satellite Communication Device
Other Equipments: İce machine, Cd player, Dvd player, Coffee Machine, Wine Cooler, Hair dry, PS3
Service Boat: Avaible
Water Sports: Water Ski, Surf, Canoe
Diving Equipments: Fishing Equipments, Sun Protector, Sun Beds, Deck Shower
Luck 5 Bodrum Port
Type: Motoryacht / Engine:760HP / Lenght:22m/ Width: 4,50 m / Capacity (People): 6 / Crew: 3
Fuel consumption: 40 lt/h / Max Speed: 18 knots /Air Condition: Ok / Cabin:3/ Fresh Water Capacity: 2500lt
Saloon: Bar, Dinner Table, Comfortable Seating Group, Modern Furniture (Full Equipment)
Kitchen: Full Equipment
Cabin/Bed/Type: 2 Master / 1 Double / 2 Twin
Bathroom: Each cabin has it own shower room
Music System:Only at dining room
Electronic Systems: Communication Device, Depth Gauce, Radar, Gps, Compus, Satellite Communication Device
Other Equipments: İce machine, Cd player, Dvd player, Coffee Machine, Wine Cooler, Hair dry, PS3
Service Boat: Avaible
Water Sports: Water Ski, Surf, Canoe
Diving Equipments: Fishing Equipments, Sun Protector, Sun Beds, Deck Shower
Luck 6 Gocek Port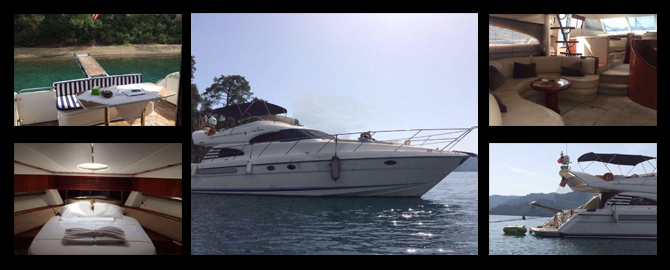 Type: Ketch/ Engine:2x350HP / Lenght:17m/ Width: 5,50 m / Capacity (People): 4-6 / Crew: 2
Fuel consumption: 60 lt/h / Max Speed: 14 knots /Air Condition: Ok / Cabin:7/ Fresh Water Capacity: 1200lt
Saloon: Bar, Dinner Table, Comfortable Seating Group, Modern Furniture (Full Equipment)
Kitchen: Full Equipment
Cabin/Bed/Type: 1 Master / 1 Twin
Bathroom: Each cabin has it own shower room
Music System:Only at dining room
Electronic Systems: Communication Device, Depth Gauce, Radar, Gps, Compus, Satellite Communication Device
Other Equipments: İce machine, Cd player, Dvd player, Coffee Machine, Wine Cooler, Hair dry, PS3
Service Boat: Avaible
Water Sports: Water Ski, Surf, Canoe
Diving Equipments: Fishing Equipments, Sun Protector, Sun Beds, Deck Shower
Luck 9 Gocek Port
Type: Motoryacht / Engine:2x500 HP / Lenght:19m/ Width: 5 m / Capacity (People): 6 / Crew: 2
Fuel consumption: 70 lt/h / Max Speed: 20 knots /Air Condition: Ok / Fresh Water Capacity: 2400lt
Saloon: Bar, Dinner Table, Comfortable Seating Group, Modern Furniture (Full Equipment)
Kitchen: Full Equipment
Cabin/Bed/Type: 1 Master / 6 Double
Bathroom: Each cabin has it own shower room
Music System:Only at dining room
Electronic Systems: Communication Device, Depth Gauce, Radar, Gps, Compus, Satellite Communication Device
Other Equipments: İce machine, Cd player, Dvd player, Coffee Machine, Wine Cooler, Hair dry, PS3
Service Boat: Avaible
Water Sports: Water Ski, Surf, Canoe
Diving Equipments: Fishing Equipments, Sun Protector, Sun Beds, Deck Shower
Luck 10 Gocek Port
Type: Motoryacht / Engine:2x2250HP / Lenght:39m/ Width: 7.90 m / Capacity (People): 12 / Crew: 5
Fuel consumption: 65 lt/h / Max Speed: 15 knots /Air Condition: Ok / Fresh Water Capacity: 17000lt
Saloon: Bar, Dinner Table, Comfortable Seating Group, Modern Furniture (Full Equipment)
Kitchen: Full Equipment
Cabin/Bed/Type: 1 Master / 3 Double / 1 Vip / 1 Twin
Bathroom: Each cabin has it own shower room
Music System:Only at dining room
Electronic Systems: Communication Device, Depth Gauce, Radar, Gps, Compus, Satellite Communication Device
Other Equipments: İce machine, Cd player, Dvd player, Coffee Machine, Wine Cooler, Hair dry, PS3
Service Boat: Avaible
Water Sports: Water Ski, Surf, Canoe
Diving Equipments: Fishing Equipments, Sun Protector, Sun Beds, Deck Shower
Luck 11 Marmaris Port
Type: Gulet / Engine:2x260HP / Lenght:26m/ Width: 6.25 m / Capacity (People): 8 / Crew: 4
Fuel consumption: 65 lt/h / Max Speed: 12 knots /Air Condition: Ok / Fresh Water Capacity: 4000lt
Saloon: Bar, Dinner Table, Comfortable Seating Group, Modern Furniture (Full Equipment)
Kitchen: Full Equipment
Cabin/Bed/Type: 1 Master / 2 Double / 1 Twin
Bathroom: Each cabin has it own shower room
Music System:Only at dining room
Electronic Systems: Communication Device, Depth Gauce, Radar, Gps, Compus, Satellite Communication Device
Other Equipments: İce machine, Cd player, Dvd player, Coffee Machine, Wine Cooler, Hair dry, PS3
Service Boat: Avaible
Water Sports: Water Ski, Surf, Canoe
Diving Equipments: Fishing Equipments, Sun Protector, Sun Beds, Deck Shower