Yatch Charter in Turkey
The yacht charter sector, which is one of the most popular holiday options in recent years, is increasing its popularity all over the world and of course in our country, too. Arsis Yacht Chartering Company offers services on Bodrum, Gocek, Fethiye, Marmaris, Kas, Kalkan and Bursa coasts for gulet, yacht and boat rentals, which are so in-demand especially in the Mediterranean and Aegean regions. As the mooring place of our yachts vary, it could save your time to inform us where exactly you would like to start your journey.
You will find the pictures of some of Arsis Yacht Chartering Company's yachts and gulets below.
Luck 1 Gocek Port
Type: Sail / Engine:760HP / Lenght:35m/ Width: 8,50 m / Capacity (People): 14 / Crew: 5
Fuel consumption: 65 lt/h / Max Speed: 14 knots /Air Condition: Ok / Cabin:7/ Fresh Water Capacity: 4000lt
Saloon: Bar, Dinner Table, Comfortable Seating Group, Modern Furniture (Full Equipment)
Kitchen: Full Equipment
Cabin/Bed/Type: 1 Master / 6 Double
Bathroom: Each cabin has it own shower room
Music System:Only at dining room
Electronic Systems: Communication Device, Depth Gauce, Radar, Gps, Compus, Satellite Communication Device
Other Equipments: İce machine, Cd player, Dvd player, Coffee Machine, Wine Cooler, Hair dry, PS3
Service Boat: Avaible
Water Sports: Water Ski, Surf, Canoe
Diving Equipments: Fishing Equipments, Sun Protector, Sun Beds, Deck Shower
Luck 2 Gocek Port
Type: Motoryacht / Engine:760HP / Lenght:17m/ Width: 4,50 m / Capacity (People): 6 / Crew: 2
Fuel consumption: 20 lt/h / Max Speed: 11 knots /Air Condition: Ok / Cabin:2/ Fresh Water Capacity: 2000lt
Saloon: Bar, Dinner Table, Comfortable Seating Group, Modern Furniture (Full Equipment)
Kitchen: Full Equipment
Cabin/Bed/Type: 1 Master / 1 Double / 2 Twin
Bathroom: Each cabin has it own shower room
Music System:Only at dining room
Electronic Systems: Communication Device, Depth Gauce, Radar, Gps, Compus, Satellite Communication Device
Other Equipments: İce machine, Cd player, Dvd player, Coffee Machine, Wine Cooler, Hair dry, PS3
Service Boat: Avaible
Water Sports: Water Ski, Surf, Canoe
Diving Equipments: Fishing Equipments, Sun Protector, Sun Beds, Deck Shower
Luck 3 Gocek Port
Type: Motoryacht / Engine:450HP / Lenght:16m/ Width: 5,20 m / Capacity (People): 4 / Crew: 2
Fuel consumption: 40 lt/h / Max Speed: 9 knots /Air Condition: Ok / Fresh Water Capacity: 1200lt
Saloon: Bar, Dinner Table, Comfortable Seating Group, Modern Furniture (Full Equipment)
Kitchen: Full Equipment
Cabin/Bed/Type: 2 Double
Bathroom: Each cabin has it own shower room
Music System:Only at dining room
Electronic Systems: Communication Device, Depth Gauce, Radar, Gps, Compus, Satellite Communication Device
Other Equipments: İce machine, Cd player, Dvd player, Coffee Machine, Wine Cooler, Hair dry, PS3
Service Boat: Avaible
Water Sports: Water Ski, Surf, Canoe
Diving Equipments: Fishing Equipments, Sun Protector, Sun Beds, Deck Shower
Luck 4 Gocek Port
Type: Motoryacht / Engine:2xMTU 1.150HP / Lenght:24m/ Width: 5,20m / Capacity (People): 8 / Crew: 3
Fuel consumption: 65lt/h / Max Speed: 22 knots /Air Condition: Ok / Fresh Water Capacity: 8000lt
Saloon: Bar, Dinner Table, Comfortable Seating Group, Modern Furniture (Full Equipment)
Kitchen: Full Equipment
Cabin/Bed/Type: 1 Master / 1 Double / 2 Twin
Bathroom: Each cabin has it own shower room
Music System:Only at dining room
Electronic Systems: Communication Device, Depth Gauce, Radar, Gps, Compus, Satellite Communication Device
Other Equipments: İce machine, Cd player, Dvd player, Coffee Machine, Wine Cooler, Hair dry, PS3
Service Boat: Avaible
Water Sports: Water Ski, Surf, Canoe
Diving Equipments: Fishing Equipments, Sun Protector, Sun Beds, Deck Shower
Luck 5 Bodrum Port
Type: Motoryacht / Engine:760HP / Lenght:22m/ Width: 4,50 m / Capacity (People): 6 / Crew: 3
Fuel consumption: 40 lt/h / Max Speed: 18 knots /Air Condition: Ok / Cabin:3/ Fresh Water Capacity: 2500lt
Saloon: Bar, Dinner Table, Comfortable Seating Group, Modern Furniture (Full Equipment)
Kitchen: Full Equipment
Cabin/Bed/Type: 2 Master / 1 Double / 2 Twin
Bathroom: Each cabin has it own shower room
Music System:Only at dining room
Electronic Systems: Communication Device, Depth Gauce, Radar, Gps, Compus, Satellite Communication Device
Other Equipments: İce machine, Cd player, Dvd player, Coffee Machine, Wine Cooler, Hair dry, PS3
Service Boat: Avaible
Water Sports: Water Ski, Surf, Canoe
Diving Equipments: Fishing Equipments, Sun Protector, Sun Beds, Deck Shower
Luck 6 Gocek Port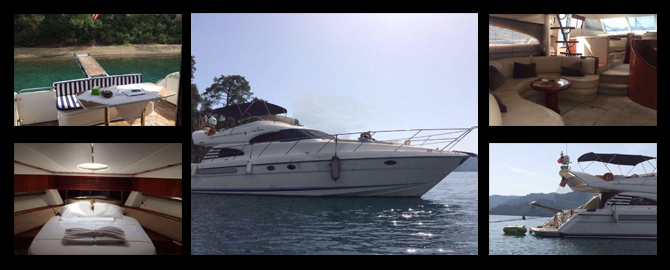 Type: Ketch/ Engine:2x350HP / Lenght:17m/ Width: 5,50 m / Capacity (People): 4-6 / Crew: 2
Fuel consumption: 60 lt/h / Max Speed: 14 knots /Air Condition: Ok / Cabin:7/ Fresh Water Capacity: 1200lt
Saloon: Bar, Dinner Table, Comfortable Seating Group, Modern Furniture (Full Equipment)
Kitchen: Full Equipment
Cabin/Bed/Type: 1 Master / 1 Twin
Bathroom: Each cabin has it own shower room
Music System:Only at dining room
Electronic Systems: Communication Device, Depth Gauce, Radar, Gps, Compus, Satellite Communication Device
Other Equipments: İce machine, Cd player, Dvd player, Coffee Machine, Wine Cooler, Hair dry, PS3
Service Boat: Avaible
Water Sports: Water Ski, Surf, Canoe
Diving Equipments: Fishing Equipments, Sun Protector, Sun Beds, Deck Shower
Luck 9 Gocek Port
Type: Motoryacht / Engine:2x500 HP / Lenght:19m/ Width: 5 m / Capacity (People): 6 / Crew: 2
Fuel consumption: 70 lt/h / Max Speed: 20 knots /Air Condition: Ok / Fresh Water Capacity: 2400lt
Saloon: Bar, Dinner Table, Comfortable Seating Group, Modern Furniture (Full Equipment)
Kitchen: Full Equipment
Cabin/Bed/Type: 1 Master / 6 Double
Bathroom: Each cabin has it own shower room
Music System:Only at dining room
Electronic Systems: Communication Device, Depth Gauce, Radar, Gps, Compus, Satellite Communication Device
Other Equipments: İce machine, Cd player, Dvd player, Coffee Machine, Wine Cooler, Hair dry, PS3
Service Boat: Avaible
Water Sports: Water Ski, Surf, Canoe
Diving Equipments: Fishing Equipments, Sun Protector, Sun Beds, Deck Shower
Luck 10 Gocek Port
Type: Motoryacht / Engine:2x2250HP / Lenght:39m/ Width: 7.90 m / Capacity (People): 12 / Crew: 5
Fuel consumption: 65 lt/h / Max Speed: 15 knots /Air Condition: Ok / Fresh Water Capacity: 17000lt
Saloon: Bar, Dinner Table, Comfortable Seating Group, Modern Furniture (Full Equipment)
Kitchen: Full Equipment
Cabin/Bed/Type: 1 Master / 3 Double / 1 Vip / 1 Twin
Bathroom: Each cabin has it own shower room
Music System:Only at dining room
Electronic Systems: Communication Device, Depth Gauce, Radar, Gps, Compus, Satellite Communication Device
Other Equipments: İce machine, Cd player, Dvd player, Coffee Machine, Wine Cooler, Hair dry, PS3
Service Boat: Avaible
Water Sports: Water Ski, Surf, Canoe
Diving Equipments: Fishing Equipments, Sun Protector, Sun Beds, Deck Shower
Luck 11 Marmaris Port
Type: Gulet / Engine:2x260HP / Lenght:26m/ Width: 6.25 m / Capacity (People): 8 / Crew: 4
Fuel consumption: 65 lt/h / Max Speed: 12 knots /Air Condition: Ok / Fresh Water Capacity: 4000lt
Saloon: Bar, Dinner Table, Comfortable Seating Group, Modern Furniture (Full Equipment)
Kitchen: Full Equipment
Cabin/Bed/Type: 1 Master / 2 Double / 1 Twin
Bathroom: Each cabin has it own shower room
Music System:Only at dining room
Electronic Systems: Communication Device, Depth Gauce, Radar, Gps, Compus, Satellite Communication Device
Other Equipments: İce machine, Cd player, Dvd player, Coffee Machine, Wine Cooler, Hair dry, PS3
Service Boat: Avaible
Water Sports: Water Ski, Surf, Canoe
Diving Equipments: Fishing Equipments, Sun Protector, Sun Beds, Deck Shower